Why Choose Ennovations TechServ for Advanced Android App Development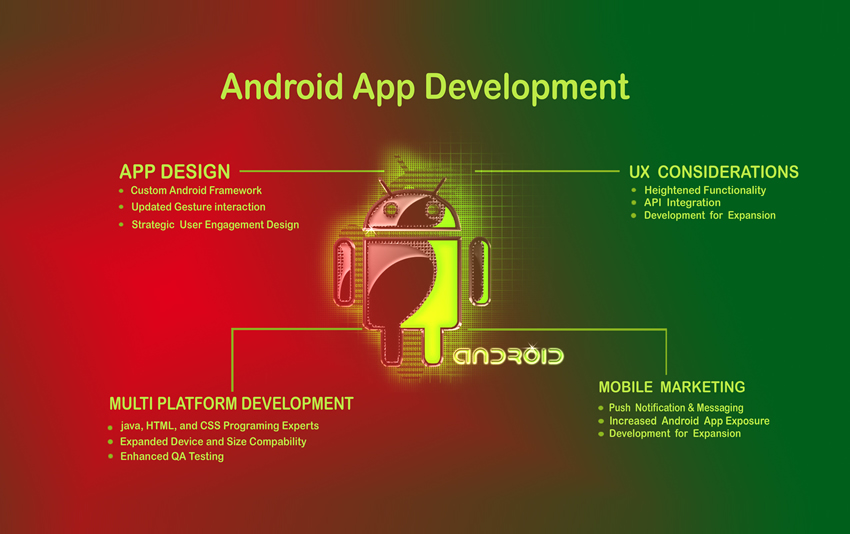 There is no denying that the mobile platform is the future as it is one of the fastest growing markets way ahead of PC and tablet devices. One of the most popular devices in this sector are Android smartphones which cover 80% of the market. If you are building a business, having an Android app for it is a must and at Ennovations TechServ we create world-class apps on this platform. Here are five reasons that set us apart from the competition:
• Portfolio and experience: We have developed apps for a wide array of professions including medicine, e-commerce, finance, and lifestyle. Our staff have plenty of experience in Custom Android app development services and are dedicated and highly skilled at it.
• Technical expertise and infrastructure: Our developers are well versed in JavaScript as well as other programming languages such as jQuery, Angular JS, HTML, CSS, Media Query and similar dynamic coding scripts.
• We also have all the hardware and infrastructure needed for building and testing Android apps. We also have access to servers capable of handling advanced networking needs.
• Competitive prices: Project costs are a vital point and our competitive prices make us the ideal choice. We can offer a quote before beginning the project as soon as all the necessary features needed in the app have been detailed.
• Communications and Support systems: We understand the importance of communication in this field and have effective communication systems to engage with clients across the world. We give importance to every small wish of the client and try to update the product as requested.
• Operational strategies: We prioritize design in every app and treat every client differently by first formulating a strategy for building the app. We also make sure all of our projects are delivered on time without any compromise in quality. Our dedication to the client and excellence in service has made us a premium Android app development company in India.
At Ennovations TechServ, we have experience in building apps for different industries such as e-commerce, banking, gaming, travel, etc. Our round the clock customer support and competitive pricing make us one of the top choices in the market.